Most people who sell online are familiar with eBay and Amazon but aren't there other marketplaces to sell on? If you are reading this article I am sure you are a person who likes to explore what other opportunities exist beyond your so-called 'four walls'. In 2017, global eCommerce retail sales amounted to $2.3 trillion and the projection is that by 2021 it will reach $4.88 trillion. Shopping on the internet was one of the most popular online activities globally, in 2016, in China alone an estimated 19% of all retail sales occurred via the internet. (Source: Statista)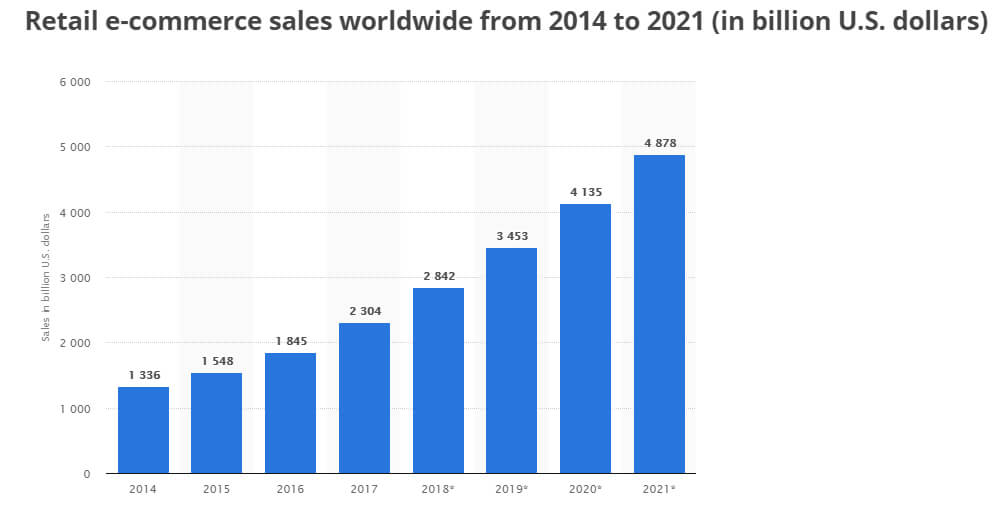 People today who see this upward trend are hungry to learn more about other global eCommerce opportunities routinewealth. If you are a person who is keen on strategically placing yourself and your business on multiple eCommerce platforms and are ready to tackle new frontiers – this post is for you!  Here I have compiled the ultimate list (divided based on geographical region) with the top global eCommerce marketplaces that will provide you with important:
Information
Statistics
Key marketplace advantages
Insights as to who can benefit most from these sites
North America online marketplaces
One might say that modern retail culture was born in the United States and the same would be true in terms of eCommerce. The USA is still the largest eCommerce market on the planet with revenue per online shopper from the US being the highest in the world: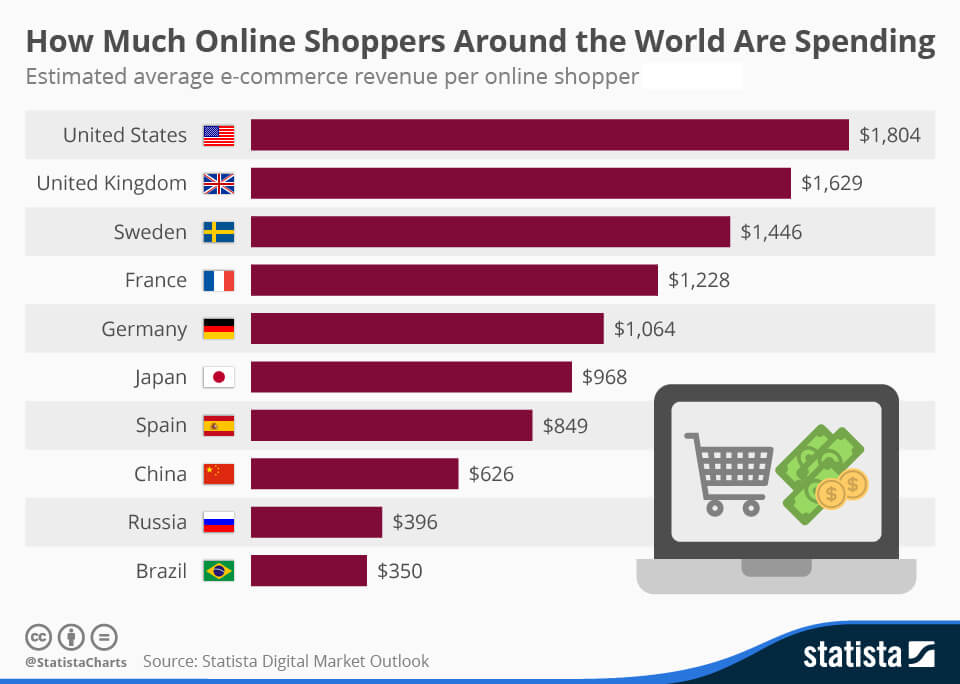 Amazon
No eCommerce list would be complete without mentioning Amazon which is a retail outlet providing fixed prices on all products. It has 12 global sites but is especially popular in:
The USA
UK
Germany
Italy
France
Japan
Spain
Amazon is a great option for merchants looking to get global exposure especially in the markets I mentioned above. Amazon has one of the largest customer bases, weighing in at 310 million active users with one of the largest variety of products available with over 353 million products for sale.
One unique service which Amazon offers is FBA or fulfillment by Amazon which allows sellers to send in their items to an Amazon warehouse and allow Amazon to handle everything from shipping to customer service for a fee.
Important metrics: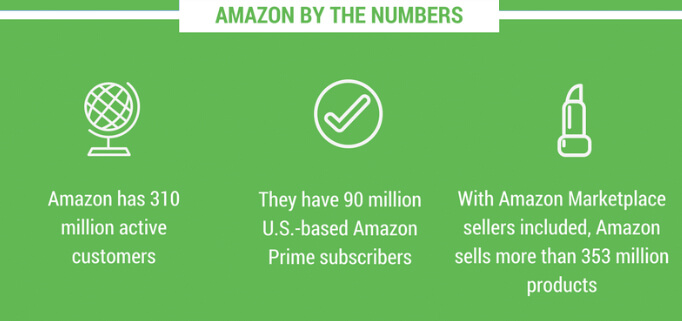 Number of active users: Latest reports show that Amazon has 310 million active users and 90 million Prime members
Seller fees: Amazon's seller fees are  on average  7-15% of an item's value
Monthly fee: When selling using a professional account you pay $39.99 per month, if you are selling as an individual you pay $0.99 per item sold with no extra monthly fees
Number of page views per month: 2.6 billion
(Source: Channel)
eBay
eBay is also one of the biggest eCommerce websites out there with 23 international sites and a presence in over 100 countries worldwide – in 2017 alone, eBay's 6.7 million sellers sold products across190 global markets.
eBay's business model is more one of an auction house which facilitates sales between third-party and sellers. It is a great platform for small businesses to create a stable source of revenue. It has been around for over 20 years and offers:
For sale. It started off as a platform primarily for used products but has evolved – most people will be shocked to learn that 81% of products currently being sold on eBay are brand new, sold mostly by small and medium sized businesses looking to expand beyond their own websites and brick & mortar establishments. (Source: Small Business Trends)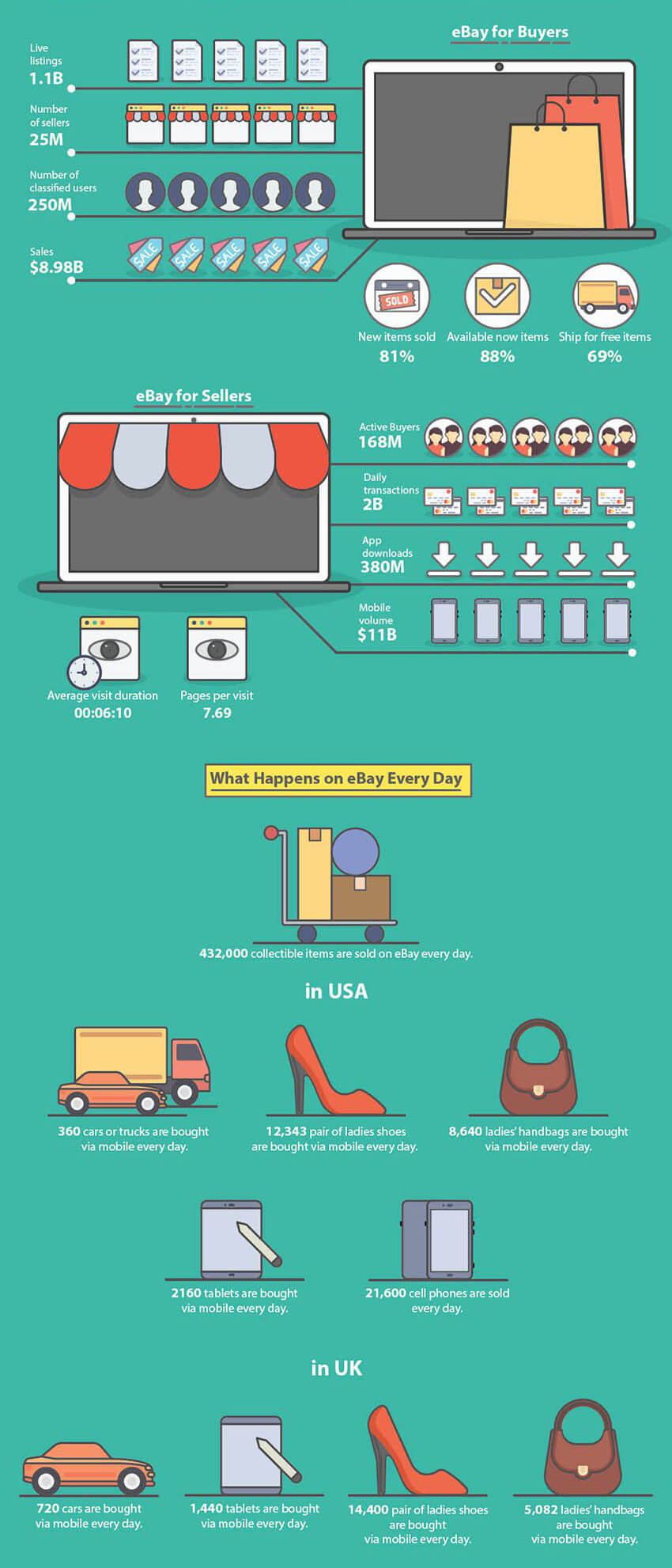 Important metrics:
Number of active users: 175 million
Seller fees: When you sell an item through an auction or fixed price sale, eBay takes a Final Value fee which is 10-12% on average. (For a more in depth explanation, check out: eBay Seller Fees Explained – The Complete eBay Fee Calculator Guide)
Monthly fee: None
Number of page views per month: 1.2 Billion
Walmart
With a whopping 363 million desktop and mobile visitors to Walmart.com from February to July 2018, this website is one of the leading brands in America and growing.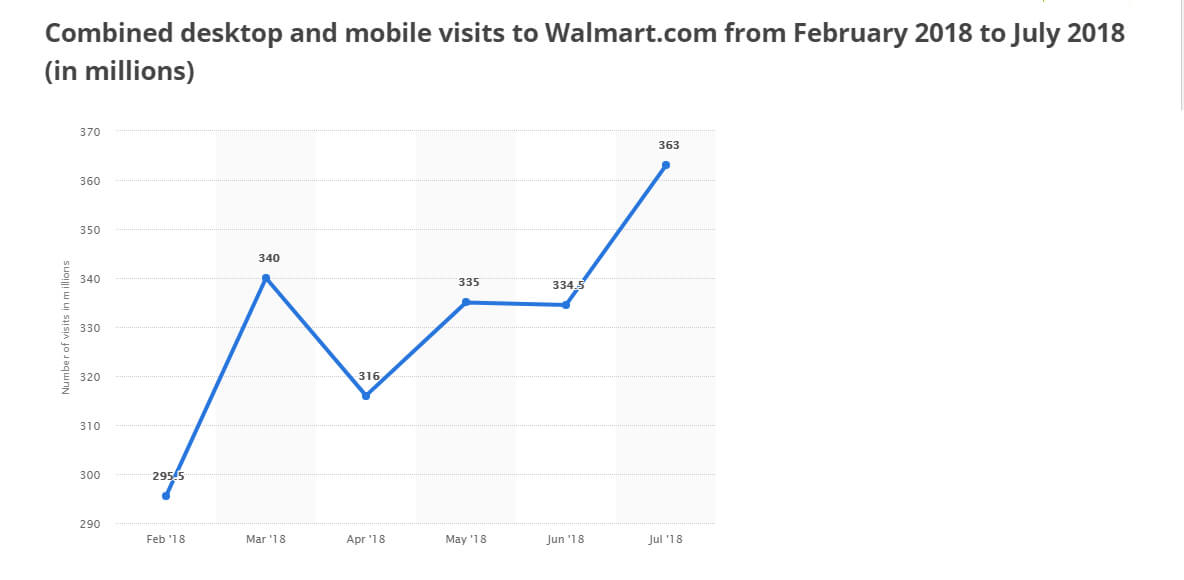 In the past, this platform was exclusive to US-based sellers but Walmart is slowly opening the floodgates to sellers from other countries such as:
The caveat: International sellers can join Walmart by invitation only and they are very specific in what they are looking for. They want sellers who:
Carry brand names
Provide excellent customer service
Have a large variety of products
Fulfill orders reliably
Have competitive prices
Have a US mailing address and W9 tax form
Have the ability to ship from a private US location (not FBA)
Are able to accept international returns
Important metrics:
Number of active users: 363 million
Seller fees: 8-15% Commission  
Monthly fee: None
Number of page views per month: 344 million
Sears
Sears which is somewhat similar to Amazon in the sense that they have their own brand and a 'Fulfilled by Sears' option. They also cater to third party sellers both locally and internationally. The bricks & mortar end of the company has taken a big hit as of late and has been forced to close 150 Sears and Kmart stores in 2018, leaving them with approximately 1,250 stores in the continental US.
On the bright side:
Sears attracts 16 million monthly online visitors
Has over 75 million Shop Your Way rewards program members (similar to Amazon Prime) who made $2 billion in purchases in 2016
Sears offers you detailed analytics and reporting so you can follow your item's progress
Sears has a fulfillment program which costs $40 a month and may make your life easier as they take care of shipping and delivery  
The Sears name instills trust in shoppers and thus can help your business
(Source: CED Commerce)
Important metrics:
Number of active users: Over 130 million active members
Seller fees: 6.5-14.5% commission
Monthly fee: $39.99
Number of page views per month: 27.7 million
Jet
Jet.com is a relatively newly (July, 2015) launched eCommerce site based in the USA and is growing rapidly and has a GMV or Gross Merchandise Volume ie dollar value of total merchandise sold estimated at $20 billion in 2020. With over 4 million customers, Jet has a unique approach to eCommerce – they have an algorithm which offers shoppers discounts on items as they shop- the more you buy, the more you save. This is a new model called dynamic pricing and it has got many American's attention. (Source: ecomdash)
The upside: Most products have one, flat 15% fee
The downside: Getting accepted and vetted as a retailer is a lengthy process but it may be worth your while.
Interesting fact: Jet was just purchased by Walmart for $3 billion meaning one of America's largest retail chains is betting big bucks on this young stallion's success.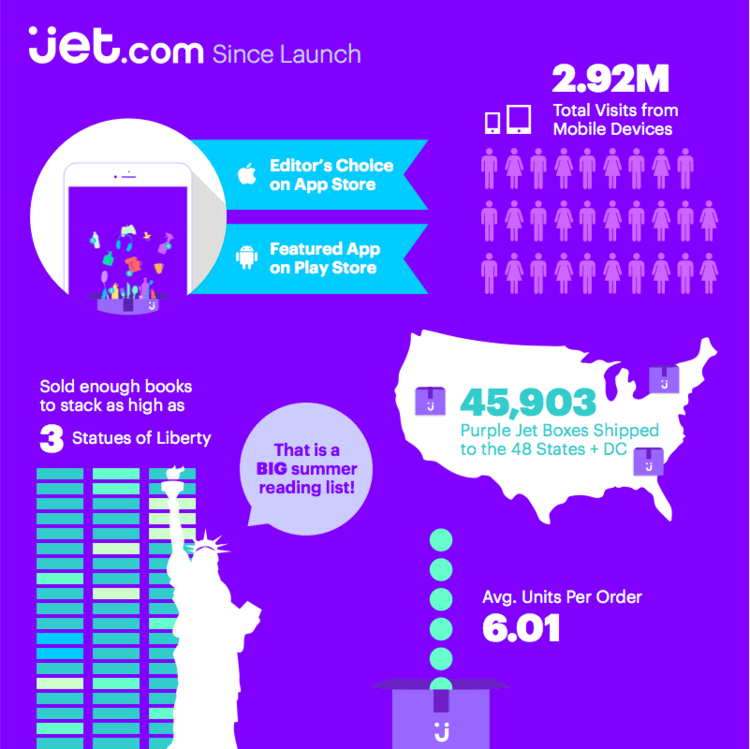 Important metrics:
Number of active users: Over 4 million active users
Seller fees: 5-15% commission
Monthly fee: None
Number of page views per month: 10.3 million
Bonanza
Bonanza was established in the US and has been trying to rival eBay for years but is still the much smaller cousin. It is a marketplace which is considered 'friendly' to sellers and has over 10 million items for sale. Its main marketplaces include:
Canada
U.K.
France
India
Germany
Mexico
Spain
At its core, Bonanza's goal is to create an easy platform where sellers can create eCommerce websites hosted by Bonanza. The clear advantages of this site include:
No listing fees and no monthly store fees!
Much higher profit margins when compared with other markets – with the average fee per sale weighing in at a measly 3.5%!
Bonanza also has the option for you to create your own unique webstore. Usually other eCommerce sites have this too but they often hog the branding. With this platform you will be able to hone your individual brand identity.  
Important metrics:
Number of active users: 2.2 million
Seller fees: 3.5% post sale
Monthly fee: No monthly store fees
Number of page views per month: 7.2 million
Wish
With revenue set to hit the $2 billion mark this year Wish is gaining a lot of traction in the marketplace and buzz on the news. The eCommerce startup which was founded in 2010 specializes in discounts and mobile shopping. Ever since its founding, it has doubled its revenue every year and CEO Peter Szulczewski says they are right on track to repeat these breathtaking results in 2018.
Wish also has an impressive merchant base of 1 million, selling over 200 million items. Their unique business model is based off of heavily discounting products which at times can include up to 90% in discounts. The way they are able to achieve this is by:
Buying directly from manufacturers
Having month-long shipping windows
Wish has been so successful that both eBay and Amazon have launched special sections of their website (Amazon's "$10 & Under" and eBay's "Under $10.") aimed at specifically competing with Wish's discount prices. (Source: Business Insider)
Important metrics:
Number of active users: 75 million active monthly users
Seller fees: 15% of the item + shipping's value
Monthly fee: None
Number of page views per month: 92.9 million
OfferUp
Is a very popular mobile-only eCommerce application with an estimated $20 billion in transactions. According to OfferUp statistics, the average user spends 16 minutes on their app – by comparison, the average spent on the most popular desktop eCommerce sites is 14 minutes and people spend only 12 minutes on eBay's app. The rule is that the longer people stay on an app or site, the higher the chance for a purchase or multiple purchases – you can see the probability for sales grow on OfferUp.
The clear advantages of this app include:
Intuitive and easy to use interface
It is based off of endless scrolling where half of the next image is hidden so that customers are constantly tempted to keep on shopping
It is safer as identities are verified by scanning in user's driver's license at online slots
(Source: DMR Business Statistics, Mark Schaefer)
Important metrics:
Number of active users: 42 million
Seller fees: 7.9 % on average per transaction
Monthly fee: None
Number of page views per month: 19.4 million
United Kingdom online marketplaces
The UK has been considered the third largest eCommerce market globally since 2015 and as such deserves its own independent section. In 2017 the sales of the largest online retailers in the UK reached a subtotal of 80 billion USD. (Source: Statista)
Do note that many of the companies mentioned above such as:
All operate in the UK as well. The following eCommerce platforms are exclusively British:
GAME
GAME as t, as the name implies,he perfect platform if you are selling:
Games
Media
Computers hardware
Toys
Collectibles
It is only around for a few years but it has seen some major growth including:
A 250% year-on-year increase in sales
Processing 12,000 monthly orders from 250 retailers
The main upsides include:
No set-up costs
No listing fees
No subscription fee
Important metrics:
Number of active users: 4 million
Seller fees: 6-15 %
Monthly fee: None
Number of page views per month: 6.4 million
Flubit
Flubit is the largest UK owned and based marketplace for branded good. Over 1 million items are available on a weekly basis and is considered the British Amazon but cheaper.
The main draw of this marketplace is zero fees or commissions!
Flubit is unique in its model as a market disruptor – it offers shoppers a simple service, once you are ready to purchase an item on Amazon.uk you can send the link over to Flubit and they will create a unique offer for that specific product at a more competitive price. These are personalized, private offers which only exist for a short time and drive customers to action. According to Flubit's data eCommerce conversion is typically at 3% with Flubit coming in at 30%! (Source: The Telegraph)
Important metrics:
Number of active users: 10 million
Seller fees: Zero
Monthly fee: None
Number of page views per month: 83,000 (sharp decrease compared to previous months)
Onbuy
Founded in 2016, they operate in 36 countries and it is a great place to start launching your products both in the UK and Europe. They have a large variety of products on offer from vehicles to flowers so you won't have any limitations as far as categories go.
A word from the company:
"The concept is simple: low fees for sellers mean savings for you whatever you're buying. We offer everything from pet supplies and homeware to beauty and toys – prepare to be spoilt for choice! We also offer OnBuy Deals, a newly launched platform where we work with our sellers to find you the best bargains across the market. You'll find massive discounts on an array of products."
It is worth mentioning that this is a purely third-party based platform as Onbuy does not compete with sellers with their own brands.
Important metrics:
Number of active users: 300,000
Seller fees: 5-9%
Monthly fee: 19 British Pounds
Number of page views per month: 278,000
Europe online marketplaces
According to recent figures, eCommerce is experiencing positive growth trends in all the major European countries which is resulting in one of the most dynamic and fastest growing eCommerce markets in the world. (Source: Statista)
Western and Central Europe combined account for over 70% of eCommerce on the continent, while Northern and Southern Europe account for nearly 20%: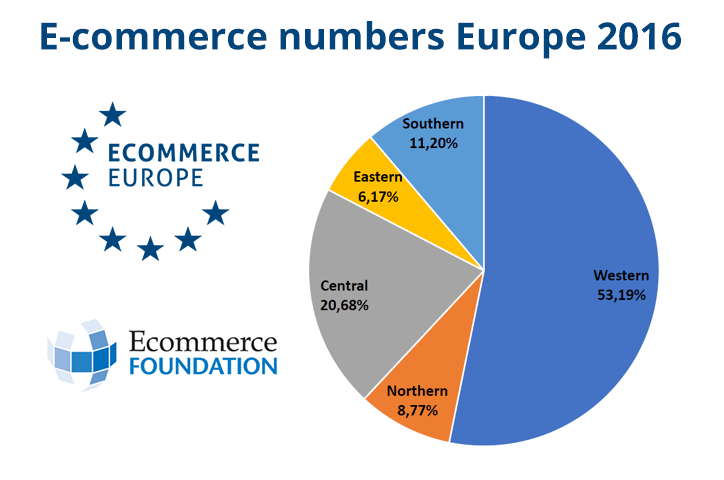 Cdiscount
Is one of the biggest eCommerce sites in France with over 11 million unique monthly visitors and 40 different product categories from fashion and shoes to electronics and sports gear.
The advantages include:
A highly developed distribution network around France including 18,500 pick-up points
A Cdiscount fulfillment option similar to Amazon's FBA
Competitive fees
The numbers:
€3.4 billion turnover in 2017
Over 2 million visitors each day
30 million products
8.6 million active customers in 2017
1 800 employees
500 000 m² of warehouses
60% of business done over mobile
Over 60 different jobs represented
(Source: Groupe Casino)
Important metrics:
Number of active users: 7.7 million
Seller fees: 5-20%
Monthly fee: 39 Euros
Number of page views per month: 69.4 million
Fnac
Fnac which was launched in 1999 is also a big French eCommerce site which has 15 million unique monthly visitors. Most of its sales are in France with a small number of sales in Belgium.
The two major seller benefits here include:
Sales and marketing assistance
Technical support
Some interesting numbers:
In 2017 Fnac had $638.4 million
75% of revenue generated on the site is from the Electronics & Media category
(Source: ecommerceDB)
Important metrics:
Number of active users: 10 million
Seller fees: 8-12%
Monthly fee: 39,99 Euros
Number of page views per month: 33.5 million
Allegro
Allegro is the 5th largest marketplace in Europe as a whole, one of the top sites in Eastern European countries and the largest eCommerce marketplace in Poland. Founded originally in Poland, the company has 14 million unique local visitors, the majority of which make regular purchases.
eBay failed miserably when it tried to launch in Poland in 2005 and Amazon has not even tried most likely due to eBay's blunder.
The most likely explanation for this anomaly is Allegro's early market launch in 1999 which secured market dominance. Have a look at some interesting numbers:
75 percent of participants in a recent survey mentioned Allegro first as an eCommerce marketplace
The awareness of Alegro as a brand is currently at 98%
For 81% of Polish internet users, Allegro is the number one choice for online shopping
Seller benefits include:
Marketing and advertising support
A personally assigned support agent
(Source: Ecommerce News Europe)
Do keep in mind that listings must be translated into Polish which may add to your expenses. Also you must have a Polish website if you want to trade on Alegro.
Important metrics:
Number of active users: 9 million
Seller fees: 2-10%
Monthly fee: None
Number of page views per month: 219 million
The major commerce and eCommerce powerhouse in Asia is clearly China. Since 2015, Chinese companies have made major strides in catching up with their American counterparts. This market has generated 250 billion US dollars in online sales and is on track to overtake the USA in the coming years.
Key contributing factors include:
The increasing spread of the internet in China
An ever growing middle class with increased spending power
The introduction and expansion of Alibaba Group
(Source: Statista)
Alibaba
Is the biggest eCommerce platform in China with about 80% of eCommerce in the middle kingdom and about half of all parcels belonging to Alibaba or one of its subsidiaries. The enormous conglomerate owns prominent eCommerce sites such as:
Taobao Marketplace which features thousand of non-brand name products sold by small unknown merchants
TMall is for brand name products
Alimama
Alipay which was turned into an independent company in 2010
One of the company's most profitable days was on Single's Day which is the Chinese antithesis to the West's Valentine's Day – in 2015 TMall and Taobao raked in 500 million sales worth 14 billion USD.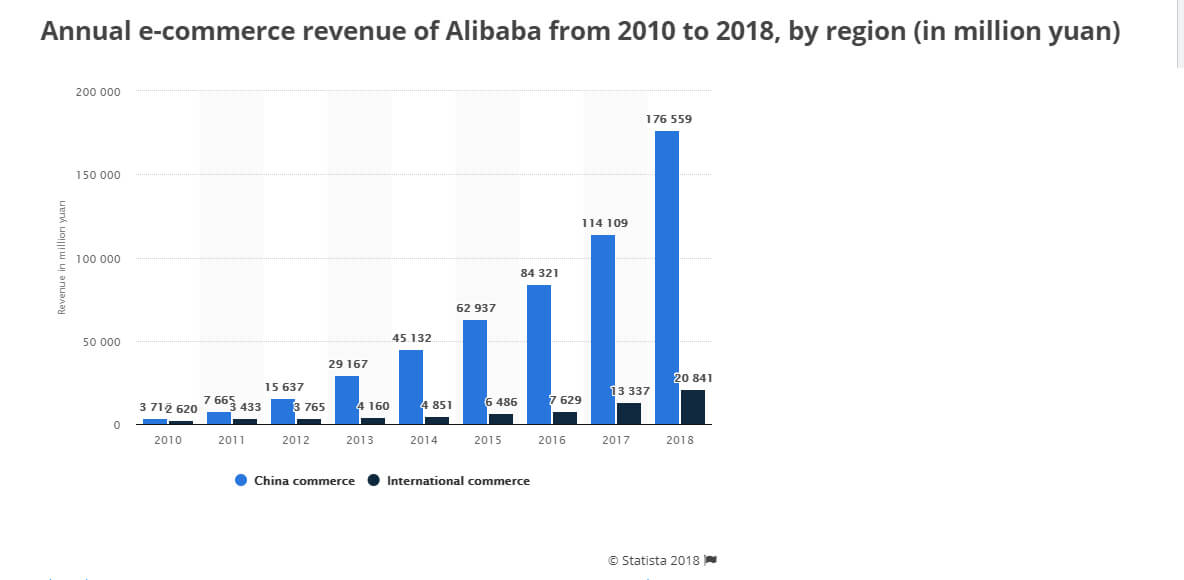 (Source: Statista)
Benefits of selling on Alibaba:
Access to a large number of international suppliers who sell at wholesale prices
You can get started for free
Great way to enter the Chinese market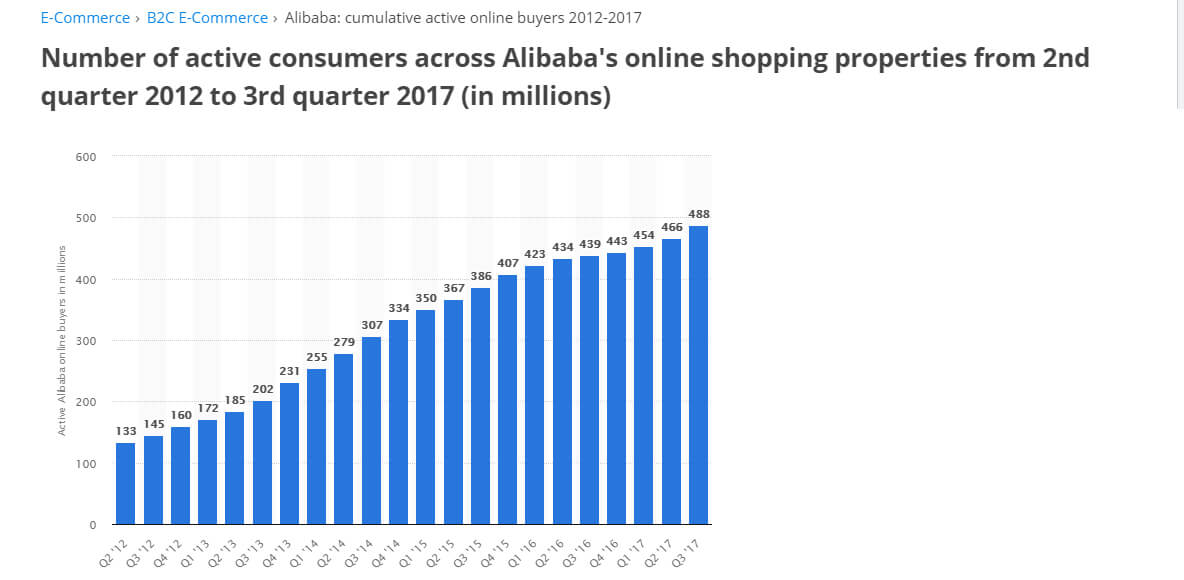 Important metrics:
Number of active users: 488 million active buyers
Seller fees: 5-8%
Monthly fee: You can have a free membership but there are other membership levels such as Gold Supplier which will run you $2,999 for the year.
Number of page views per month: 126.7 million
JD
This is a great way and according to some accounts, an easier way to penetrate the Chinese market. When looking into selling with JD Worldwide you have two retail options:
Resale – meaning JD will purchase your merchandise and resell it on their site independently to Chinese consumers
Retail – You sell your products using the JD platform for a 2-10% fee depending on the category  
Important metrics:
Seller fees: 2-10%
Monthly fee: No monthly fee but you will pay an annual fee of $1,000 which will exempt you from having a local address or bank account in China and will benefit from the company's marketing support as well as gaining access to JD's national logistics network.
Number of page views per month: 675 million
Flipkart
This is India's largest eCommerce site with 65% market share which was recently scooped up by Walmart for a cool $16 billion. India is where Walmart and Amazon will hash it out for control of a major emerging market.
Now Walmart did not invest all that money for naught – online retail is expected to grow in India 141% to $50 billion from 2017-2021: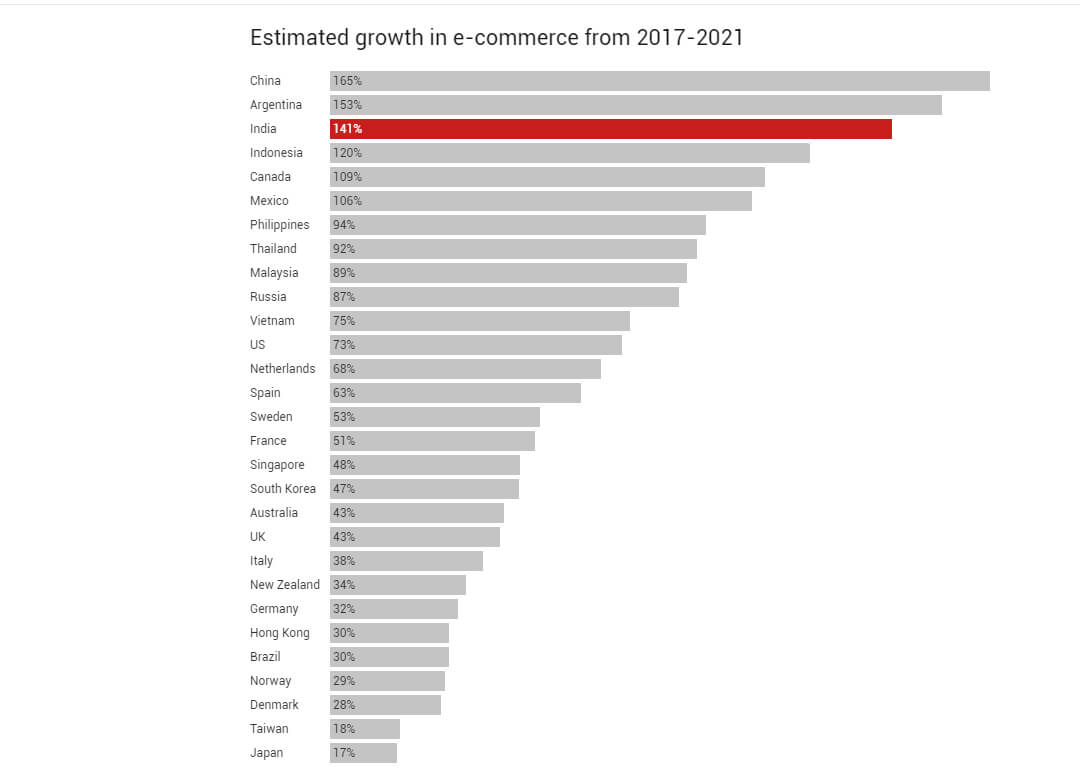 The Advantages:
It is super easy to begin selling as an international seller though you will need a local address for returns
It is the best way to break into the Indian market
Major disadvantage:
Flipkart severely curbs your ability to sell larger items and requests special approval or involvement for many brand name products.
Important metrics:
Number of active users: 75 million
Seller fees: 5-25%
Monthly fee: None
Number of page views per month: 220 million
Snapdeal
Snapdeal which the second largest eCommerce site in India after Flipcart was actually supposed to merge with the latter but the deal fell through. Since the failure to merge, the company has decided to shift strategy gears and focus on:
Low priced items
Selling as frequently as possible
Targeting price-sensitive customers
And its new, albeit aggressive strategy seems to be working with orders up to 45,000 a day after reaching a low of 20,000 orders a day in 2017 while using their old Gross Merchandise Volume GMV strategy.
Sanpdeal advantages include:
Great logistics
One of the highest kilo allowances on the Indian market (60 kilo vs. Amazon which only allows 30 kilos in India and Flipkart which limits sellers to 12 kilos)
Disadvantages include:
Little control over your listings and their content once it is up on the site
Poor customer support
Their fulfillment program SD Plus is highly disorganized
(Source: MARKETING91)
Important metrics:
Number of active users: 45 million
Seller fees: 7-15 %
Monthly fee: None, No listing fee
Number of page views per month: 64.2 million
Lazada
Lazada first entered the market in Singapore 6 years ago when consumers were mostly focused on finding cheap deals.
A strong selling point for the largest site in South-East Asia is it's free delivery and free returns policy.
The site, which is currently also owned by the Alibaba corporation and has followed suit by adding physical pickup location in Singapore where customers can also try on newly purchased articles of clothing and make returns and swaps.
"Another challenge lies in the physicality of retail – it encourages human interactions and grants immediate gratification to buying of goods," explains Erik Ligtenberg, Deputy Chief Executive Officer. "We have since expanded our offerings with click and collect lounges at all CapitaLand malls, and improved our app that allows shoppers to connect directly with sellers in real-time, as if they're talking to them in person."
This is a very interesting phenomenon which is gaining traction the world over – hybrid online offline retail has a future, just remember that it began in Singapore.
(Source: The Drum)
Important metrics:
Number of active users: 5.3 million
Seller fees: 2% of the unit price on average
Monthly fee: None
Number of page views per month: 24 million
Rakuten (Japan)
This is the hands down, the single largest eCommerce platform in Japan with 80% of the entire local population making purchases via the platform and is the fourth largest eCommerce platform in the world. What makes them stand out is that each merchant receives their own space which can be uniquely designed and branded.
The site's key operating principle is based on a Japanese concept called 'Omotenashi' which encourages offering high quality and personalized service. This approach means that Rakuten allows for a more direct relationship between buyers and sellers and encourages each seller to create a unique user experience.
Important metrics:
Number of active users: 105 million
Seller fees: 8-12 %
Monthly fee: JPY 19,500 (roughly $175)
Number of page views per month: 16.4 million
Africa online marketplaces
Africa which is such a small market is typically grouped together with the Middle East. Here are some regional statistics:
eCommerce revenue hit roughly $20 million in 2018
By 2022 there will be a growth rate of 11% amounting to almost $32 million
The largest part of the market is dominated by Electronics & Media at $6 million in sales in 2018
The average revenue per user is $209 at present
(Source: Statista)
Jumia
Though operating in a small market and dominating the African eCommerce scene, Jumia has high hopes for the future to tap this market which has immense potential. The African continent has 54 independent countries and 1.3 billion consumers and 17 million SMEs and merchants.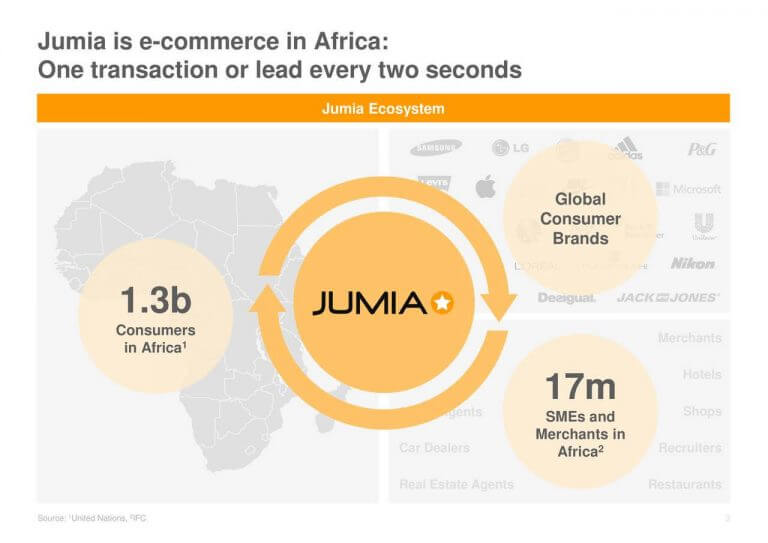 Founded in 2012, the company started off by selling items exclusively in the electronics and fashion departments. It is a market leader specifically in:
Egypt
Ivory Coast
Nigeria
Kenya
South Africa
Morocco
It is safe to say that it has overpowered its competition ie Kilimall and Konga.That is not to say the African eCommerce market which only accounts for 0.5% of the retail market share doesn't have its own challenges including:
A severe lack in vendor trust
A lack in computer skills
Africans have are late adopters of the 'cashless society' concept and are slow to adopt credit cards, PayPal and other forms of 'digital' or 'virtual' currency
(Source: ecommerce IQ)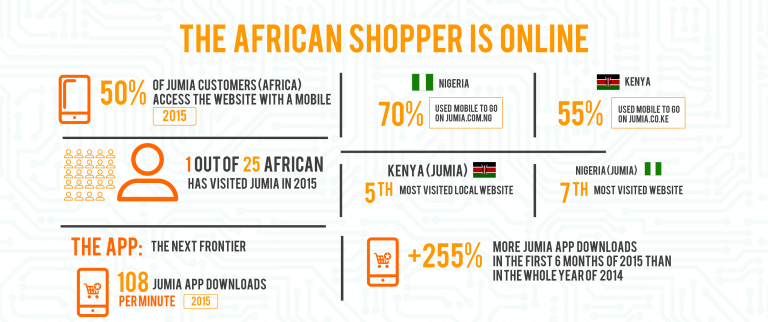 Important metrics:
Number of active users: 162 million
Seller fees: 2.5-20%
Monthly fee: None
Number of page views per month: 3.6 million
South America online marketplaces
In 2019, expect to see dramatic growth on the Latin American continent as far as eCommerce goes – 2016 saw 126.8 million Latin American shoppers and the 2019 projection is 155.5 million. Relatively speaking this market is small when compared with behemoths such as North America and Asia Pacific but is still expected to grow from $49.8 billion in 2016 to $79.7 billion in 2019. From a regional perspective, Brazil is the clear market leader with $16.55 billion in fiscal year 2016 followed by Mexico at $7.19 billion and Argentina at $5.1 billion. (Source: Statista)
Mercado Libre
Mercado Libre is the market leader in South America including:
Argentina
Brazil
Chile
Colombia
Costa Rica
Ecuador
Mexico
Peru
Uruguay
Venezuela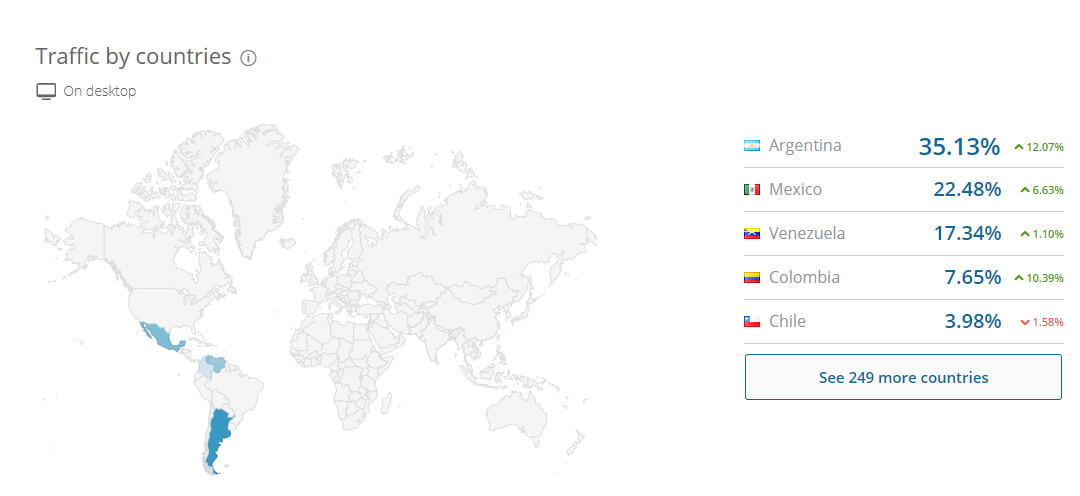 And is the perfect place to start your South American commerce journey.
Two facts about Mercado Libre:
It is the 8th most visited internet retail site in the world
It generates 4,000 search queries per second
You can also open up a Mercado Shop which is a personalized retail area on their platform and much like Alipay, they too operate their own independent payment processing service called MercadoPago.
Important metrics:
Number of active users: 160 million
Seller fees: 10-16%
Monthly fee: None
Number of page views per month: 31.5 million
As you can see the world of eCommerce is much broader than just eBay and Amazon and many opportunities are just on the horizon waiting to be tapped. The developing world has some fantastic opportunities and even developed countries which are known for slower growth and sometimes smaller margins have some very interesting eCommerce startups aiming to revolutionize online retail. Use this list wisely and don't be afraid to get your feet wet, hone in on one market or platform which really peaked your imagination and start getting a feel for the market. As they say, If you never try, you will never know and if you try and fail then try, try again.
Please share your eCommerce pioneering experiences with the community and let us know if their are any other intriguing platforms out there that I may have overlooked.